Dining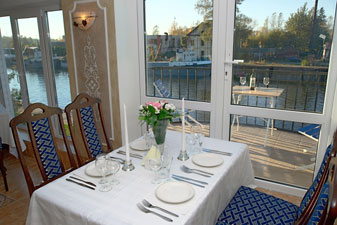 Fresh air and walks on the nature promote occurrence of good appetite. In our restaurant you can try dishes of Russian and European cuisine. A fine view of the sea channel, an original interior, good service, tasty meal, the pleasant atmosphere, convenient furniture - all this will allow you to have a good time.
At restaurant there is a children's menu.
Visitors of restaurant can leave the clothes and things for the period of restaurant visiting in cases with an individual key.
Restaurant and conference rooms can accomodate about 70 persons.
Menu
Main course
Turkey Langet
(turkey, onions, carrots, mushrooms, cheese, mayonnaise)
280-00 rbl
Chicken rolls in bacon
(chicken, cheese, bacon, greens)
230-00 rbl
Salmon "the Pocket of the boyar"
(salmon, shrimps, cheese, greens)
290-00 rbl
Meat a la France
(beef, field mushrooms, onions, cheese, mayonnaise)
280-00 rbl
Pork with pineapples
(pork, pineapple, onions, cheese, mayonnaise)
280-00 rbl
A cutlet fried
(pork, spices)
160-00 rbl
Chicken stuffed with mushrooms
(chicken, mushrooms, onions, parsley)
160-00 rbl
Pork in cowberry sauce
(pork, cowberry, orange, honey)
180-00 rbl
Seafood nests
(macaroni, seafood, Chile pepper, tomato, parsley, garlic, tomato paste)
230-00 rbl
Dressing
Fried potato
50-00 rbl
Risotto
30-00 rbl
Vegetables
70-00 rbl
Photogallery