Rooms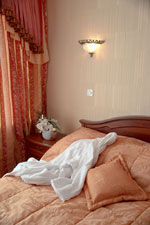 The Hotel "Pierhouse" offers you:
• 2 rooms - "economy double"
• 2 rooms- "standard single"
• 16 rooms -"standard double/twin"
• 9 rooms - "standard triple"
• 2 rooms - "suite double "
• 1 room - "luxury"
Arrival from 14.00, departure before 12.00 am (checkout time) onthe day of departure.
A cot is available.
Breakfast is included into the rate.
Checkout time – 12 in the afternoon
Economy double
Small cosy room with double bed, shower cabin, TV.
Standard single
Standard single room with a single bed, shower cabin, TV, refrigerator
Standard twin/double
Standard rooms for double occupancy with twin / double beds, showers / bathrooms, TV, fridge.
Standard triple
Standard triple accommodation with three single beds, showers, TV, refrigerator.
Suite Double
Cosy double rooms with a convenient sofa. Shower cabins. Is ideally suitable for accommodation for the family.
Luxury
Two rooms: the sitting room and the bed-room with a view to the Gulf of Finland. Is ideally suitable for newly married.